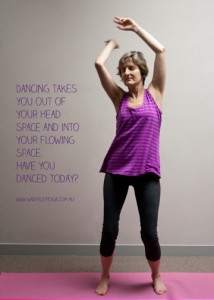 Have you ever felt the stirrings of something exciting and wondered what to do with it? Ignored it for a while but then it just wouldn't go away? Thought it might be a bit silly but the Universe kept pointing you towards it anyway?
I suppose that's what happened 15 years ago when I was drawn to study Yoga, and then Waverley Yoga Studio was born.
Our upcoming Yoga Dance workshop is a blossoming of such stirrings too.
A study of the Chakras (subtle energy centres) in my Yoga teacher training, a few years of Mindful Living co-facilitating (with my teacher Swami Shantananda) and my very personal Meditation experiences of great spiritual energy have all led me to offer the upcoming Yoga Dance workshop.
This could be called chakra dance, or ecstatic dance, or kundalini dance, but I'm calling it Yoga Dance because that word Yoga means Union. The practices of Yoga help us to experience Union of body, mind and Soul/Spirit, or on a deeper level, Union with the Divine, with the one great Reality.
During Yoga Dance you will move you body however it wants to move.
Over the period of the workshop the music will change to encourage a subtle activation of the chakras in much the same way as your practice on the mat does.
If you already practice yoga with me, you will know we usually include a little free-form dance as we warm up. We are taking a bit further in this workshop – no Yoga mats, no dance 'moves' – the whole studio is your safe and sacred space in which to explore. Your dance will feel free-flowing and spontaneous.
You may find this dance to be a healing experience, and are sure to be left feeling joyful, balanced and still.
If you are feeling a bit self-conscious, don't worry, I bet you won't be the only one. You may feel like resting or meditating at various times throughout the session, and we will finish in stillness.
You will leave glowing, vibrant and feeling ecstatic.