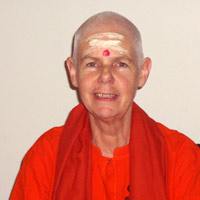 What is Satsang?

'Satsang' means 'in the company of truth'.
Our satsangs are a coming together of the yoga community, and are a celebration of Yoga. It's a great opportunity to explore and enjoy the lighter side of Yoga, and feel the Shakti (spiritual energy) that comes from embracing and enjoying life.
There is no class and no asana – instead, we embrace the social side of Yoga. We chant, meet Swami Shantananda (Mataji) and share some of her wisdom, and finish with informal socializing over chai and cake.
Satsang is on the last Friday of the month at 7.30pm (till approx 9pm), except not in January and our special Christmas satsang will be mid December. There is no fee, but it is customary to make a donation. Do come and join us!