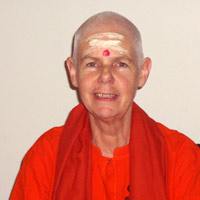 Our teachings are based on those from an authentic lineage of yoga teachers, tracing back to Bhagavan Nityananda of Ganeshpuri, India, and then his disciple Swami Muktananda. Sarasvati's teacher is Swami Shantananda and her teacher is Swami Shankarananda, a direct disciple of Swami Muktananda.
Sarasvati is extremely grateful to have received teachings that have transformed her life and to be a part of this living tradition. At Waverley Yoga Studio our yoga and meditation classes are infused with the understandings and shakti (spiritual energy) that have come from Nityananda. We encourage and help YOU to find the freedom and bliss within that comes from truly knowing yourself through the practices of yoga.
Read more about Bhagavan Nityananda and the lineage of yogis of the tradition at www.nityanandatradition.org
Read more about Swami Shantananda and The Australian College of Classical Yoga at www.classicalyoga.com.au
Read more about Satsang.