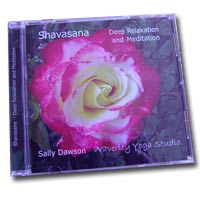 We use the wonderful practice of Shavasana (corpse pose) in our Yoga classes at Waverley Yoga Studio. Shavasana counters the physical stress and tension of our lives, bringing balance to our bodies and minds. It is not healthy to be 'running on adrenaline' and this practice is a great way to reduce the effects of the stress hormones, for ongoing wellness and balance. Anyone can listen to this CD and get these benefits.
But Shavasana goes deeper than this. It helps us to experience stillness and the freedom that comes from temporarily relinquishing body and mind. And from this practice we can see that there is a place for using the mind (of course!), but also a rich, inner life that we can become aware of when we put the body and mind aside for a while. Ongoing practice of Shavasana and meditation brings peace and equanimity to the experience of life, and ultimately liberation from the old way of experiencing self and the world. Try it and see for yourself.
Sarasvati Dawson has been sharing the benefits of Shavasana since 2001.
After many requests this CD has been made so that you can now experience these benefits even if you can't make it to the studio.
Also on this CD is a track for practicing deep breathing.
This is especially useful if you are looking for healing or more complete wellness.
And for students of anatomy, some of the major bones and muscles of the body are named in Track 3 for assimilation into the mind after Shavasana.
Tracks
Deep yogic breathing for wellness, healing and relaxation (9 minutes)

Shavasana – relinquishing body and mind for deep relaxation and meditation (21 minutes)

Anatomical trip through the body – major bones and muscles, for students of anatomy (11 minutes)

Short relaxation (13 minutes)
All guided by Sarasvati, with beautiful meditative background music.
 Testimonial
I have practiced yoga for many years,  and relaxation or yoga nidra  has always been my  favourite time in the class. I have heard many  versions of this practice,  and recently was given Sarasvati Dawsons  Shavasana CD for Christmas.
Without doubt  it  is  the best version I have ever listened to.
I experienced  a  very deep  relaxation  which led to  a blissful  state of  meditation.
I highly recommend this CD for your  practice.
With  great love
Sulochana
To purchase Shavasana Deep Relaxation and Meditation CD, or for more information, contact Sally 03 9803 8857 or email Sally here.
Price $25AUD plus postage and handling if mailed (ie $2.50 within Australia).
Yoga teachers please enquire for wholesale price.