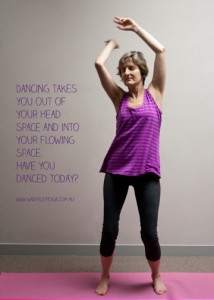 MOVE and MEDITATE
This is a new class running for 6 weeks starting June 27 on Thursdays at 7.30 pm.  All classes include 20 minutes of asana, 20 minutes of free dance/ mindful movement and then 20 minutes stillness meditation.
Who is Move and Meditate for?
These classes are best suited to those with some body awareness and already familiar with yoga and meditation practice. Great if you want both movement and stillness in an hour!
What does Move and Meditate involve?
We will take the body through a balanced asana practice to get it moving, to energise the subtle body and to focus the mind, all of which will prepare you for a more intuitive movement practice to follow. We will then tune in and move in whatever way suits, mindful and intuitive movement that moves you towards meditation. It could be standing, sitting, lying or a combination. It could be movements you have done before or just whatever you feel like. Then you will sit or find whatever position suits for meditation, and you may well find that a state of meditation easily arises.
What are the Benefits?
A balanced practice of mindful movement that works with strength, flexibility, internal massage, circulation and much more that is tailored to your needs on any given day, as it allows for how you are feeling and what you need. Then you transition easily into meditation, where you slow down, support the parasympathetic nervous system and just might feel blissful, still, spacious and free. Oh and on top of all of this – it is FUN!!